Past
过往
Events
活动
In-Person
Past
过往
Events
活动
In-Person
Past
过往
Events
活动
In-Person
Past
过往
Events
活动
In-Person
Past
过往
Events
活动
In-Person
Past
过往
Events
活动
In-Person
Past
过往
Events
活动
In-Person
Past
过往
Events
活动
In-Person
Past
过往
Events
活动
In-Person
Past
过往
Events
活动
In-Person
Past
过往
Events
活动
In-Person
Past
过往
Events
活动
In-Person
Past
过往
Events
活动
In-Person
Past
过往
Events
活动
In-Person
Past
过往
Events
活动
In-Person
Past
过往
Events
活动
In-Person
Past
过往
Events
活动
In-Person
Past
过往
Events
活动
In-Person
Past
过往
Events
活动
In-Person
Past
过往
Events
活动
In-Person
Past
过往
Events
活动
In-Person
Past
过往
Events
活动
In-Person
Past
过往
Events
活动
In-Person
Past
过往
Events
活动
In-Person
Past
过往
Events
活动
In-Person
Past
过往
Events
活动
In-Person
Past
过往
Events
活动
In-Person
Past
过往
Events
活动
In-Person
Past
过往
Events
活动
In-Person
Past
过往
Events
活动
In-Person
Past
过往
Events
活动
In-Person
Past
过往
Events
活动
In-Person
Past
过往
Events
活动
In-Person
Past
过往
Events
活动
In-Person
Past
过往
Events
活动
In-Person
Past
过往
Events
活动
In-Person
Past
过往
Events
活动
In-Person
Past
过往
Events
活动
In-Person
Past
过往
Events
活动
In-Person
Past
过往
Events
活动
In-Person
Past
过往
Events
活动
In-Person
Past
过往
Events
活动
In-Person
Past
过往
Events
活动
In-Person
Past
过往
Events
活动
In-Person
Past
过往
Events
活动
In-Person
Past
过往
Events
活动
In-Person
Past
过往
Events
活动
In-Person
Past
过往
Events
活动
In-Person
Past
过往
Events
活动
In-Person
Past
过往
Events
活动
In-Person
Past
过往
Events
活动
In-Person
Past
过往
Events
活动
In-Person
Past
过往
Events
活动
In-Person
Past
过往
Events
活动
In-Person
Past
过往
Events
活动
In-Person
Past
过往
Events
活动
In-Person
Past
过往
Events
活动
In-Person
Past
过往
Events
活动
In-Person
Past
过往
Events
活动
In-Person
Past
过往
Events
活动
In-Person
Past
过往
Events
活动
In-Person
Past
过往
Events
活动
In-Person
Past
过往
Events
活动
In-Person
Past
过往
Events
活动
In-Person
Casting Call for Fall Season of 囍 Double Happiness
An Original Immersive MOCA Production
August 25, 2022, 3:00 pm

–

5:00 pm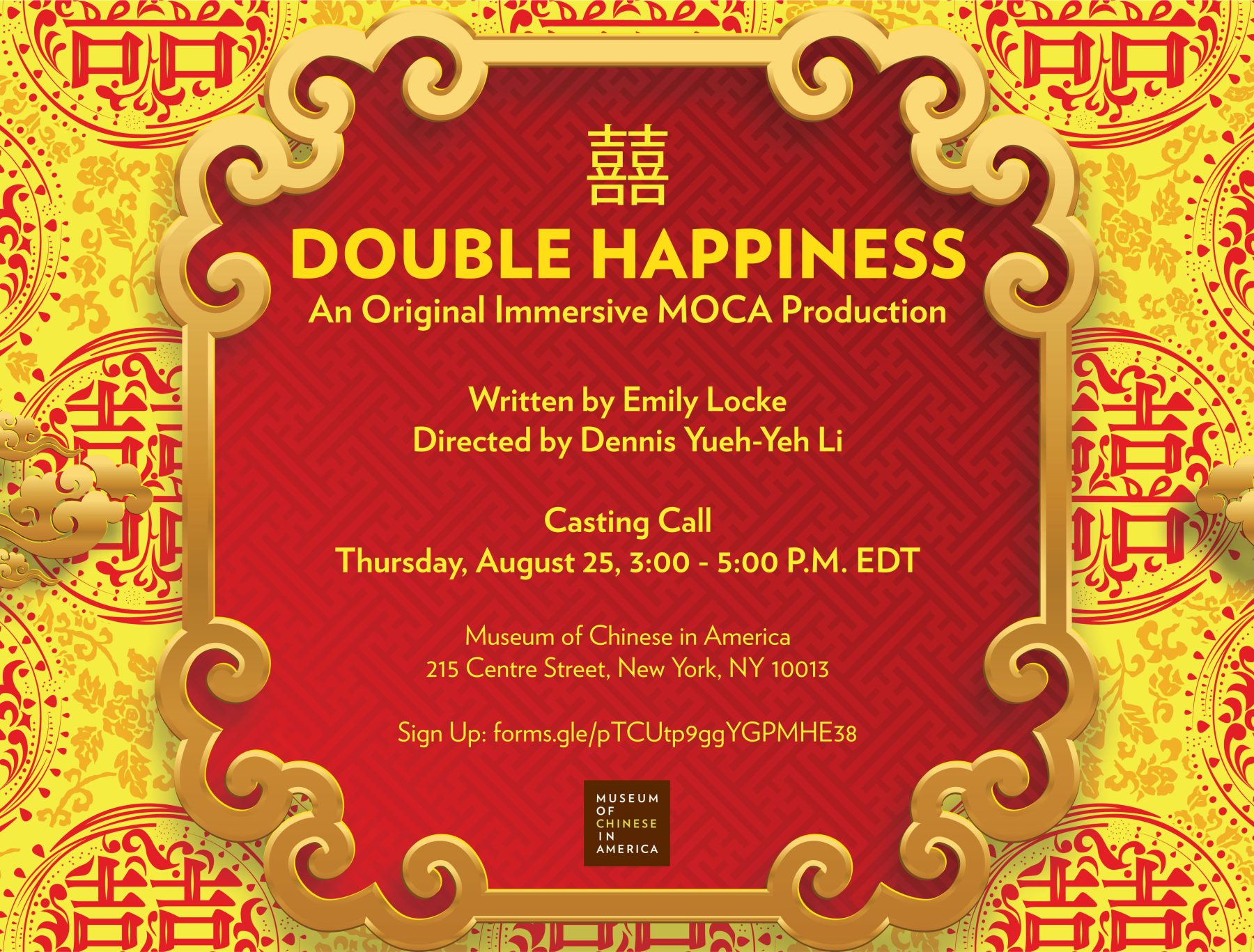 Written by Emily Locke, directed by Dennis Yueh-Yeh Li, and produced by the Museum of Chinese in America, MOCA is bringing back its sold-out immersive theatre production Double Happiness for a limited encore season this fall. Currently, we cordially invite you to join MOCA's casting call on Thursday, August 25, 3:00 – 5:00 P.M. EDT for several roles. Kindly note that registration for this casting call is highly recommended.
SYNOPSIS
Join Claire and Alex as they (attempt) to combine cultures and merge families at their wedding banquet. Will love conquer all? Which family is more traditional? As the wedding begins, conflicts start to emerge. Double Happiness is a comedic immersive dinner and theatrical show that unpacks the complexity and explores the nuances within the Chinese American/Immigrant identity while allowing the audience to enjoy a (somewhat) traditional Chinese wedding. As the ceremony gets underway, the wedding guests (the audience) see the dynamics of the bride and groom's families unfold – and unravel. After a dramatic ceremony, the banquet dinner begins and Double Happiness continues.
CHARACTERS TO BE CAST:
ALEX: Caucasian/Chinese American, cis-Male 25 – 35, adopted child of first generation Chinese Americans, Joyce and Eric, with background in economics and government with a dream to make a difference, quiet and reserved, not only being knowledgable but also practicing Chinese traditions, experiences with improvisation and ensemble work are a plus

CLAIRE (understudy): Chinese/Taiwanese American, cis-Female, 25 – 35, first generation of Chinese American growing up in Los Angeles who hadn't been aware of her root in the Chinese culture, until meeting with Alex, her husband-to-be, and ever since, she has been dedicated to catching up with the Chinese culture. She's an art lover, and has been very into fundraising and marketing, experiences with improvisation and ensemble work are a plus
ANNA: Chinese/Taiwanese American, cis-Female, early 20s, first generation of Chinese American, child of Mary and Ted, older sister to Elliot but younger to Claire, a millennial who is committed to political correctness to the extremity, from her fashion to her manners, quite stubborn and unapologetic, experiences with improvisation and ensemble work are a plus.
ERIC: Chinese American, cis-Male, 50s, child of immigrants, hardworking who has eventually accomplished the American dream. He is a retired Chinatown lawyer who loosened up from the feeling of being an outsider for most of his life. He enjoys food very much, with a dream to open a restaurant if there is a second life; Experiences with improvisation and ensemble work are a plus.
Rehearsal and Performance Dates & Location
Rehearsals (tentative): Monday, September 19 – Tuesday, September 27 (twice or three times, exact dates to be determined with the cast)
Dress rehearsal (tentative): 6:30 P.M. – 8:30 P.M. EDT, Wednesday, September 28
Opening night performance: 6:00 P.M. – 8:00 P.M. EDT, Thursday, September 29
Thursday evening performances: 6:00 P.M. – 8:00 P.M. EDT, October 6 and October 13
Friday evening performances: 6:30 P.M. – 8:30 P.M. EDT, September 30, October 7, and October 14
The show runs approximately 2 hours with no intermission. It is also family friendly and appropriate for young adults/teenagers.
Compensation & Contract Details: $100 per actor per performance, Non-Equity (Union)
---
MOCA has been creating new digital content through multiple platforms, always free of charge—because history matters. We hope you'll consider making a gift to become part of a continuing lifeline for MOCA. No amount is too little and we greatly appreciate your generosity. Your contribution helps sustain our beloved institution and supports the creation of new programming that will bring comfort and inspiration to more communities.