Collections
馆藏
Collections
馆藏
Collections
馆藏
Collections
馆藏
Collections
馆藏
Collections
馆藏
Collections
馆藏
Collections
馆藏
Collections
馆藏
Collections
馆藏
Collections
馆藏
Collections
馆藏
Collections
馆藏
Collections
馆藏
Collections
馆藏
Collections
馆藏
Collections
馆藏
Collections
馆藏
Collections
馆藏
Collections
馆藏
Collections
馆藏
Collections
馆藏
Collections
馆藏
Collections
馆藏
Collections
馆藏
Collections
馆藏
Collections
馆藏
Collections
馆藏
Collections
馆藏
Collections
馆藏
Collections
馆藏
Collections
馆藏
Collections
馆藏
Collections
馆藏
Collections
馆藏
Collections
馆藏
Collections
馆藏
Collections
馆藏
Collections
馆藏
Collections
馆藏
Collections
馆藏
Collections
馆藏
Collections
馆藏
Collections
馆藏
Collections
馆藏
Collections
馆藏
Collections
馆藏
Collections
馆藏
Collections
馆藏
Collections
馆藏
Collections
馆藏
Collections
馆藏
Collections
馆藏
Collections
馆藏
Collections
馆藏
Collections
馆藏
Collections
馆藏
Collections
馆藏
Collections
馆藏
Collections
馆藏
Collections
馆藏
Collections
馆藏
Collections
馆藏
Collections
馆藏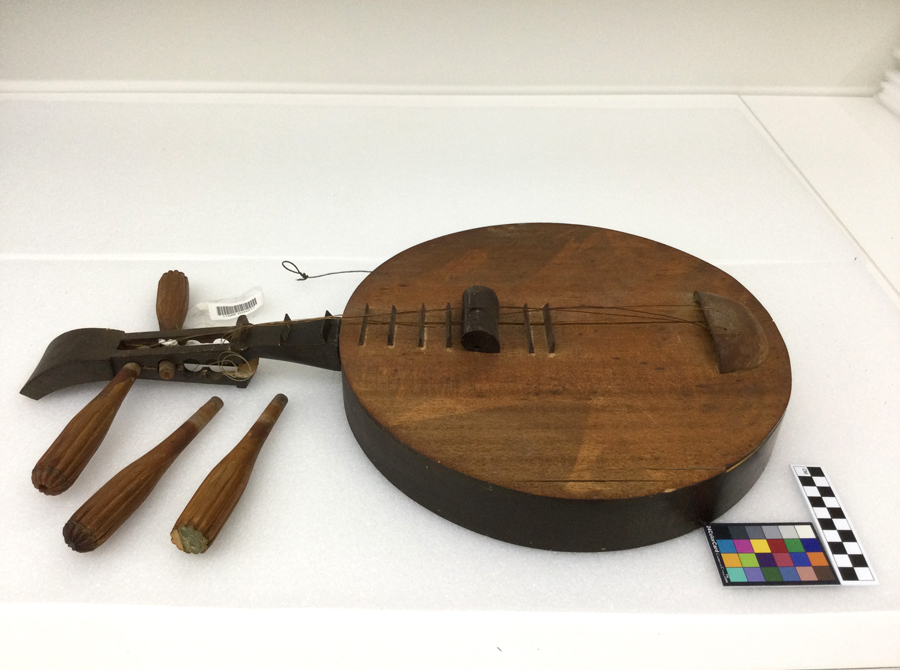 Please help us fund its conservation!
Total Conservation Cost: $4,800
Any amount helps and would be greatly appreciated!
If you would like to make a contribution towards the conservation of this instrument, please click to navigate to MOCA's Donate Page and be sure to specify the object you would like to sponsor. Please also kindly send a brief email to collections@mocanyc.org to notify us of your donation.
Object Story and Significance:
Prior to 1926, the yueqin (月琴, Cantonese yutkam) — a traditional Chinese pluck string instrument with a round moon-shaped hollow soundboard, a short fretted neck, and usually four (nylon or silk) strings — played a prominent part in Cantonese instrumental ensembles, though in more recent decades, it has become more of an auxiliary instrument.
This yueqin is likely part of the collection of instruments, opera costumes, props, and photographs that MOCA helped save in 1989, when the Chinese Musical and Theatrical Association (CMTA) moved from Canal Street to a smaller club space with less storage on Pell Street, in the process almost discarding a collection of artifacts documenting over fifty years of Cantonese opera being performed within the New York Chinatown community. The CMTA opened a theater in New York Chinatown in 1931 during the golden years of Cantonese opera in the United States, and up until its permanent closure in 2018, kept alive this important diasporic Chinese cultural tradition.
In the photograph below of a June 1959 concert of Cantonese music performed by members of the CMTA, the musician sitting in the front right is playing a yueqin as part of an 8-musician ensemble.
Post-Fire Condition:
This musical instrument was not broken before the fire and may have fallen when the building wobbled during the five-alarm fire. It is in very poor structural condition, with a detached and cracked neck, detached tuning pegs, and multiple cracks to the sound board. The synthetic strings are very degraded, brittle, distorted, and darkened. A significant amount of stabilization and reconstruction of the instrument is needed, as well as cleaning to remove grime and staining to the unfinished wood surfaces.
With the support of your donation, we would:
Dry and wet clean components to remove grime and staining
Adhere and clamp back together the broken neck
Remove the synthetic strings and replace with new strings
Secure the wood tuning pegs in place
Reassemble the broken sound board as best as possible