Collections
馆藏
Collections
馆藏
Collections
馆藏
Collections
馆藏
Collections
馆藏
Collections
馆藏
Collections
馆藏
Collections
馆藏
Collections
馆藏
Collections
馆藏
Collections
馆藏
Collections
馆藏
Collections
馆藏
Collections
馆藏
Collections
馆藏
Collections
馆藏
Collections
馆藏
Collections
馆藏
Collections
馆藏
Collections
馆藏
Collections
馆藏
Collections
馆藏
Collections
馆藏
Collections
馆藏
Collections
馆藏
Collections
馆藏
Collections
馆藏
Collections
馆藏
Collections
馆藏
Collections
馆藏
Collections
馆藏
Collections
馆藏
Collections
馆藏
Collections
馆藏
Collections
馆藏
Collections
馆藏
Collections
馆藏
Collections
馆藏
Collections
馆藏
Collections
馆藏
Collections
馆藏
Collections
馆藏
Collections
馆藏
Collections
馆藏
Collections
馆藏
Collections
馆藏
Collections
馆藏
Collections
馆藏
Collections
馆藏
Collections
馆藏
Collections
馆藏
Collections
馆藏
Collections
馆藏
Collections
馆藏
Collections
馆藏
Collections
馆藏
Collections
馆藏
Collections
馆藏
Collections
馆藏
Collections
馆藏
Collections
馆藏
Collections
馆藏
Collections
馆藏
Collections
馆藏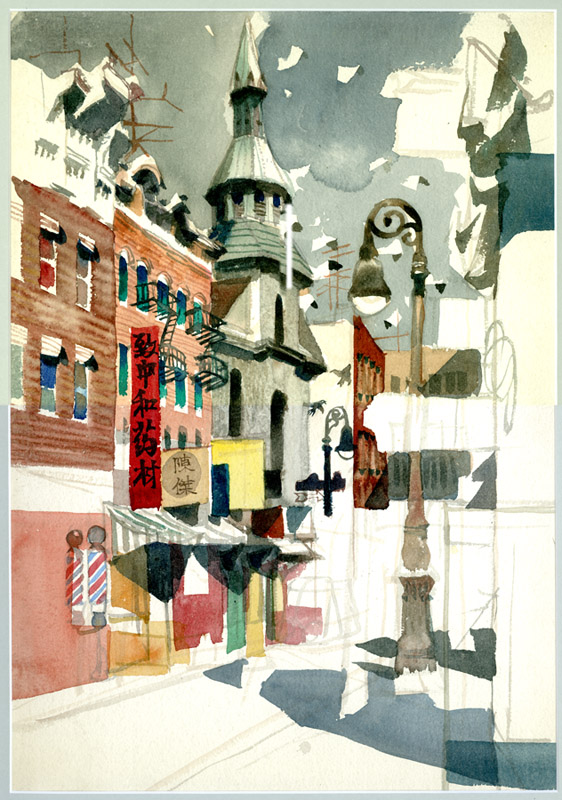 We've fully reached our funding goal!
Total Conservation Cost: $2,450
Thanks to a donation from Elaine Kingman, we reached our total fundraising goal! We are so grateful for her generous sponsorship, and as a small way to show our appreciation, have included an acknowledgement of her sponsorship in the Dong Kingman watercolor painting's catalog record in MOCA Collections' PastPerfect database.
As its conservation treatment is now fully funded, please note that any further contributions will be put towards the painting's long-term storage and care. If you would like to make a contribution, please click to navigate to MOCA's Sponsor an Object Donate Page and be sure to type in "Dong Kingman Watercolor" as the Object Name.
(Please click images to enlarge)
Object Story and Significance: 
This beautiful work by master watercolorist Dong Kingman depicts a scene at the intersection of Mott and Mosco Streets in New York Chinatown and features the neighborhood's iconic Church of the Transfiguration prominently at the center. It was rendered circa 1953 and was gifted posthumously to MOCA by Elaine and Dong Kingman, Jr., the artist's son and daughter-in-law.
Dong Kingman, a pioneer of the California School of Watercolor, characterized by bold color, broad brushstrokes, and designs abstracted rather than copied from a specific scene, began his illustrious art career on the West Coast but settled in New York City after World War II. By then, he had painted prolifically for the Works Progress Administration (WPA) during the Depression, completed two Guggenheim fellowships, served in the Office of Strategic Services (OSS) as a cartographer during World War II, and had become renowned for his land and city scapes melding Chinese and Western art influences into his own distinct style. In New York, he accepted positions teaching art at Columbia University and Hunter College, and over the course of his seven-decade career, continued to garner critical acclaim for exhibitions of his work in the U.S. and abroad.
The sepia-toned photograph below shows Dong Kingman painting a watercolor outside 57 Mott Street (in front of Joy Luck Restaurant) circa the 1940s after he moved to New York. This and a handful of such watercolors of New York Chinatown as seen through the artist's eyes at a particular snapshot in time document both the artist's experience in Chinatown as well as a part of the neighborhood's history.
Post-Fire Condition:
The watercolor is in unstable and vulnerable condition primarily due to the growth of black mold staining its back and surface. The piece was previously attached to a foam core backing and a non-archival window mat with linen tape, but the backing and mat have since been removed because these likely absorbed moisture when the fire at MOCA's archives were being put out, creating conditions conducive for mold to grow, especially between the foam backing and the back of the painting. You can see in the photograph how the mold staining on the back unfortunately carries through in parts of the front of the painting. The linen tape hinges that were used to adhere the work to the backing remain attached to the artwork and parts of these are sticky. The drawing is discolored along the bottom and left edges, presumably from previous contact with an acidic board.
With the support of your donation, we would:
Dry clean and remove surface grime as possible
Remove damaging mold as possible using appropriate precautions
Remove linen tape hinges and adhesive residue on the back of the artwork