Past
过往
Past
过往
Past
过往
Past
过往
Past
过往
Past
过往
Past
过往
Past
过往
Past
过往
Past
过往
Past
过往
Past
过往
Past
过往
Past
过往
Past
过往
Past
过往
Past
过往
Past
过往
Past
过往
Past
过往
Past
过往
Past
过往
Past
过往
Past
过往
Past
过往
Past
过往
Past
过往
Past
过往
Past
过往
Past
过往
Past
过往
Past
过往
Past
过往
Past
过往
Past
过往
Past
过往
Past
过往
Past
过往
Past
过往
Past
过往
Past
过往
Past
过往
Past
过往
Past
过往
Past
过往
Past
过往
Past
过往
Past
过往
Past
过往
Past
过往
Past
过往
Past
过往
Past
过往
Past
过往
Past
过往
Past
过往
Past
过往
Past
过往
Past
过往
Past
过往
Past
过往
Past
过往
Past
过往
Past
过往
U.S.-China Relations Post-U.S. Elections: A Conversation with Gary Locke
November 16, 2022, 2:00 pm

–

3:30 pm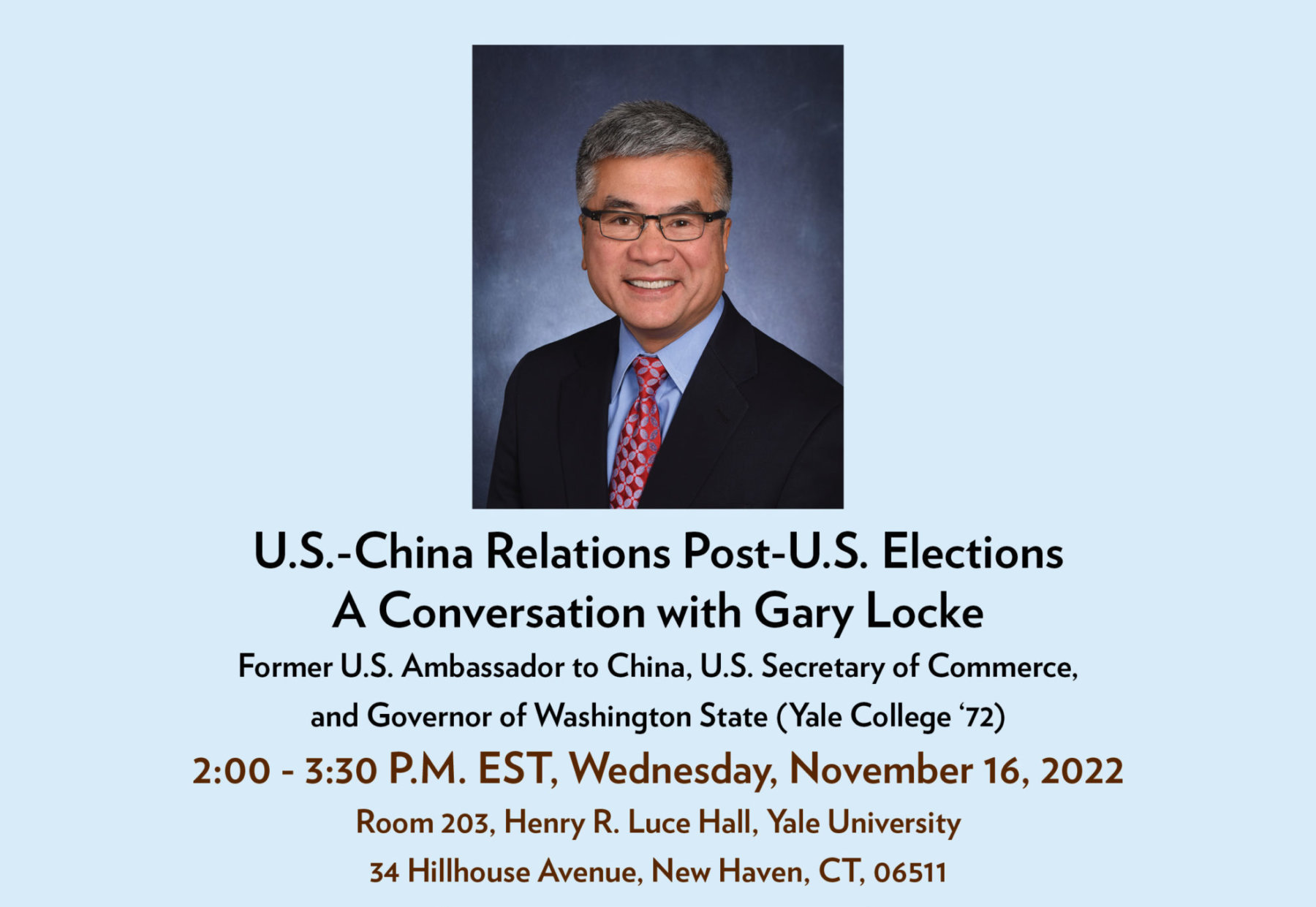 PLEASE NOTE: This event will not be held at MOCA but will take place offsite at Room 203, Henry R. Luce Hall, Yale University, 34 Hillhouse Avenue, New Haven, CT, 06511. This program will be recorded for on-demand viewing and will be distributed via MOCA newsletter as soon as it is available.
Co-hosted by the Yale-China Association, Yale University Asian American Cultural Center, and the Museum of Chinese in America (MOCA)
With tensions between the U.S. and China at their most challenging in decades, where are areas of visibility for this critically-important bilateral relationship? Will leadership changes—after the PRC's 20th Party Congress and the U.S.' midterm elections—lead to increased hostilities and miscommunication or move toward greater understanding and diplomacy? What are the implications for U.S. foreign policy, and what is the outlook domestically?
As Governor of Washington State (the first Chinese American to be elected governor in United States history and the first Asian American governor on the mainland), U.S. Secretary of Commerce, and most recently as America's envoy to China, Governor Locke has been a leader in the areas of education, employment, trade, health care, human rights, immigration reform, privacy, and the environment. Ambassador Locke currently serves as the President of Bellevue College in Bellevue, Washington.
Yale University Visitors Policy
All visitors must be up to date with their COVID-19 vaccines as defined by the Centers for Disease Control and Prevention. All visitors must carry vaccination and booster documentation and be prepared to provide it if asked. Read the full visitors policy here.
Driving Directions: From north or south on Interstate 91 (I-91), take Exit 3 (Trumbull Street) Stay in the middle lane and continue straight onto Trumbull Street, through the third traffic light (Temple Street) — the next right is Hillhouse Avenue. Luce Hall is the third building on the left, set back from the street. Metered parking throughout area.
---
MOCA has been creating new digital content through multiple platforms, always free of charge—because history matters. We hope you'll consider making a gift to become part of a continuing lifeline for MOCA. No amount is too little and we greatly appreciate your generosity. Your contribution helps sustain our beloved institution and supports the creation of new programming that will bring comfort and inspiration to more communities.