Past
过往
Exhibitions
展览
Past
过往
Exhibitions
展览
Past
过往
Exhibitions
展览
Past
过往
Exhibitions
展览
Past
过往
Exhibitions
展览
Past
过往
Exhibitions
展览
Past
过往
Exhibitions
展览
Past
过往
Exhibitions
展览
Past
过往
Exhibitions
展览
Past
过往
Exhibitions
展览
Past
过往
Exhibitions
展览
Past
过往
Exhibitions
展览
Past
过往
Exhibitions
展览
Past
过往
Exhibitions
展览
Past
过往
Exhibitions
展览
Past
过往
Exhibitions
展览
Past
过往
Exhibitions
展览
Past
过往
Exhibitions
展览
Past
过往
Exhibitions
展览
Past
过往
Exhibitions
展览
Past
过往
Exhibitions
展览
Past
过往
Exhibitions
展览
Past
过往
Exhibitions
展览
Past
过往
Exhibitions
展览
Past
过往
Exhibitions
展览
Past
过往
Exhibitions
展览
Past
过往
Exhibitions
展览
Past
过往
Exhibitions
展览
Past
过往
Exhibitions
展览
Past
过往
Exhibitions
展览
Past
过往
Exhibitions
展览
Past
过往
Exhibitions
展览
Past
过往
Exhibitions
展览
Past
过往
Exhibitions
展览
Past
过往
Exhibitions
展览
Past
过往
Exhibitions
展览
Past
过往
Exhibitions
展览
Past
过往
Exhibitions
展览
Past
过往
Exhibitions
展览
Past
过往
Exhibitions
展览
Past
过往
Exhibitions
展览
Past
过往
Exhibitions
展览
Past
过往
Exhibitions
展览
Past
过往
Exhibitions
展览
Past
过往
Exhibitions
展览
Past
过往
Exhibitions
展览
Past
过往
Exhibitions
展览
Past
过往
Exhibitions
展览
Past
过往
Exhibitions
展览
Past
过往
Exhibitions
展览
Past
过往
Exhibitions
展览
Past
过往
Exhibitions
展览
Past
过往
Exhibitions
展览
Past
过往
Exhibitions
展览
Past
过往
Exhibitions
展览
Past
过往
Exhibitions
展览
Past
过往
Exhibitions
展览
Past
过往
Exhibitions
展览
Past
过往
Exhibitions
展览
Past
过往
Exhibitions
展览
Past
过往
Exhibitions
展览
Past
过往
Exhibitions
展览
Past
过往
Exhibitions
展览
Past
过往
Exhibitions
展览
How We Dressed in the Beautiful Country
Selections from the Museum of Chinese in America's Fashion and Costume Collections
January 20, 2023

–

January 29, 2023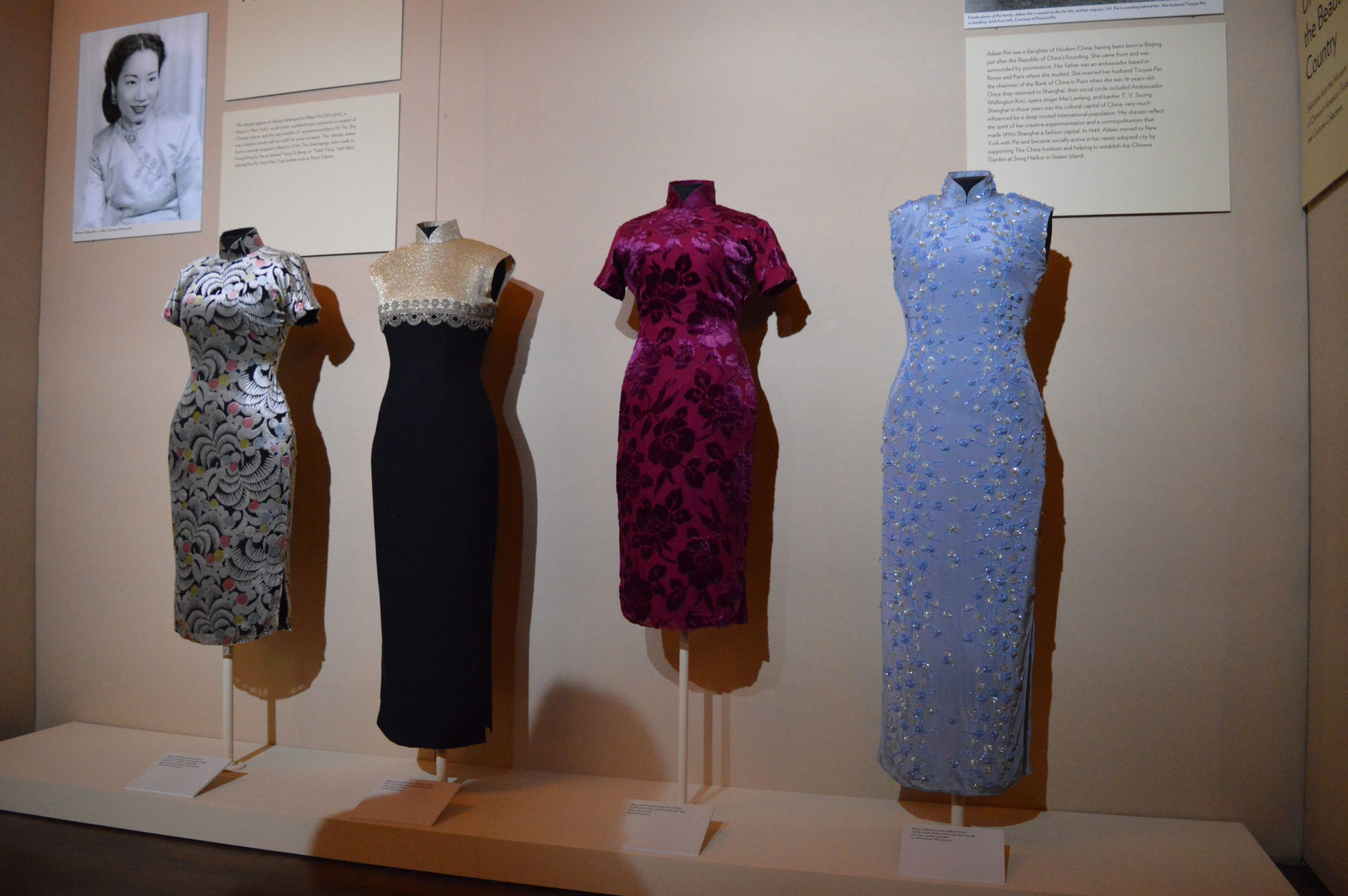 For The Winter Show 2023, MOCA has curated capsule exhibitions highlighting two of its key collections of fashion and costumes: the remarkable hand-tailored qipaos of Aileen Pei, step-mother of I.M. Pei, who lived through historic epochs in early 20th century China before settling with her family in New York in the 1940s, and the dramatically ornate opera gowns from the Chinese Musical and Theatrical Association, an organization that preserved Cantonese opera in New York's Chinatown beginning in the 1930s. Aileen Pei's dresses reflect the spirit of creativity, experimentation and a cosmopolitanism that made 1930s Shanghai a bustling international fashion capital. She brought her collection of qipaos and sense of style to New York after fleeing war-ravaged China in the early 1940s.
Cantonese opera was brought to America in the late 19th century by professional troupes from China who traveled with costumes, instruments, and props to entertain early Chinese American communities. The rare gowns on display, created by a renowned costume studio in Guangzhou in the late 19th century, were recovered from a devastating fire that destroyed MOCA's Collections and Research Center in January 2020. A collective effort by MOCA staff, board, volunteers, and supporters from all over the world helped salvage 95% of its collection and create a new facility to store and care for its precious artifacts documenting the history of Chinese in America.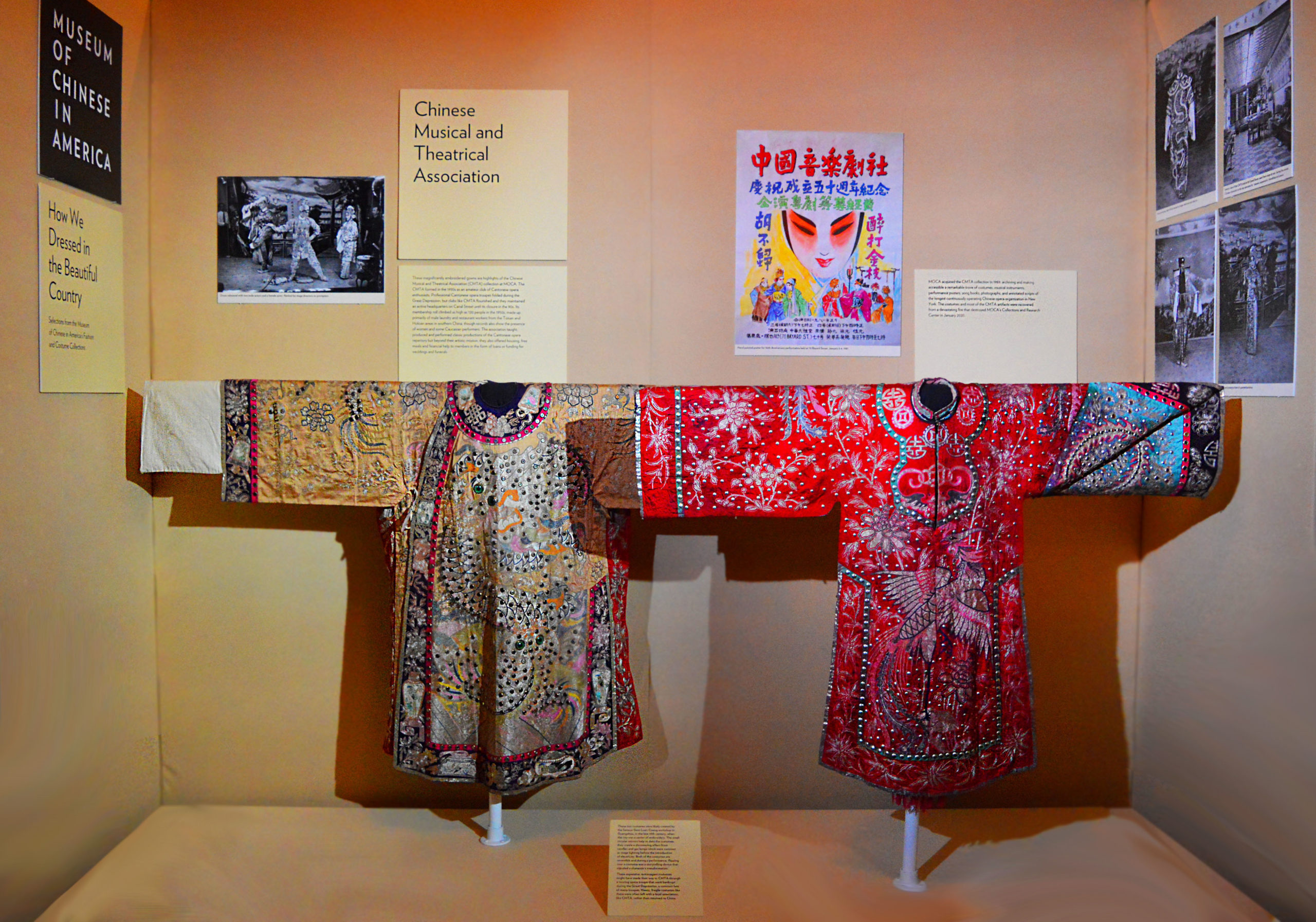 ---
Ticket Information
Opening Night Party
January 19 | 5 PM – 9 PM­
Young Collectors Night
January 26 | 6:00 PM – 9 PM
Connoisseurs Night
January 27 | 5:30 PM – 8 PM
General Admission Single-Entry Ticket
January 20 – 29
VIP Collectors Pass
January 20 – 29
(11AM early access on Saturdays and Tuesday)
A portion of the proceeds from ticket sales goes where they are needed most, enabling MOCA to stay true to its mission by providing an inspiring visitor experience.
---
Museum of Chinese in America (MOCA), as a recipient of Bank of America's Neighborhood Builders Award, is proud to partner with fellow two-time recipient, East Side House, in a collaboration that celebrates the history of our city.
Since its founding in 1980, MOCA has celebrated the living history of the Chinese experience in America by preserving and presenting the 200-year history, heritage, culture, and diverse experiences of American communities of Chinese descent.
For over 130 years, East Side House has innovated to meet the needs of New York City's most vulnerable people beginning with the immigrant population on the Upper East Side in the late 1800s through to tackling the complex issues of today including food insecurity, employment, and wellness.
Together, Museum of Chinese in America and East Side House represent the rich tapestry of New York City's culture, community, and service. We welcome you to explore The Winter Show 2023 and learn more about our important work.
We thank Bank of America for their commitment to community and investment in our City's cultural institutions.
---
The Winter Show in Dialogue Series
Reimagining the Museum with Maya Lin
Friday, Juanuary 27, 2023, from 4:00 P.M. – 5:00 P.M. EST
Park Avenue Armory, 643 Park Avenue, New York, NY 10065
We cordially invite you to a special conversation with award-winning architect and artist Maya Lin as she will discuss her vision and architectural design for the New MOCA and other upcoming projects.
---
Public Show Dates
Friday, January 20 – Sunday, January 29
M | W | F 12 PM – 8 PM
Tu | Th 12 PM – 5 PM
Sat. 12 PM – 7 PM
Sun. 12 PM – 6 PM