Collections
馆藏
Collections
馆藏
Collections
馆藏
Collections
馆藏
Collections
馆藏
Collections
馆藏
Collections
馆藏
Collections
馆藏
Collections
馆藏
Collections
馆藏
Collections
馆藏
Collections
馆藏
Collections
馆藏
Collections
馆藏
Collections
馆藏
Collections
馆藏
Collections
馆藏
Collections
馆藏
Collections
馆藏
Collections
馆藏
Collections
馆藏
Collections
馆藏
Collections
馆藏
Collections
馆藏
Collections
馆藏
Collections
馆藏
Collections
馆藏
Collections
馆藏
Collections
馆藏
Collections
馆藏
Collections
馆藏
Collections
馆藏
Collections
馆藏
Collections
馆藏
Collections
馆藏
Collections
馆藏
Collections
馆藏
Collections
馆藏
Collections
馆藏
Collections
馆藏
Collections
馆藏
Collections
馆藏
Collections
馆藏
Collections
馆藏
Collections
馆藏
Collections
馆藏
Collections
馆藏
Collections
馆藏
Collections
馆藏
Collections
馆藏
Collections
馆藏
Collections
馆藏
Collections
馆藏
Collections
馆藏
Collections
馆藏
Collections
馆藏
Collections
馆藏
Collections
馆藏
Collections
馆藏
Collections
馆藏
Collections
馆藏
Collections
馆藏
Collections
馆藏
Collections
馆藏
1982 Garment Workers Strike Poster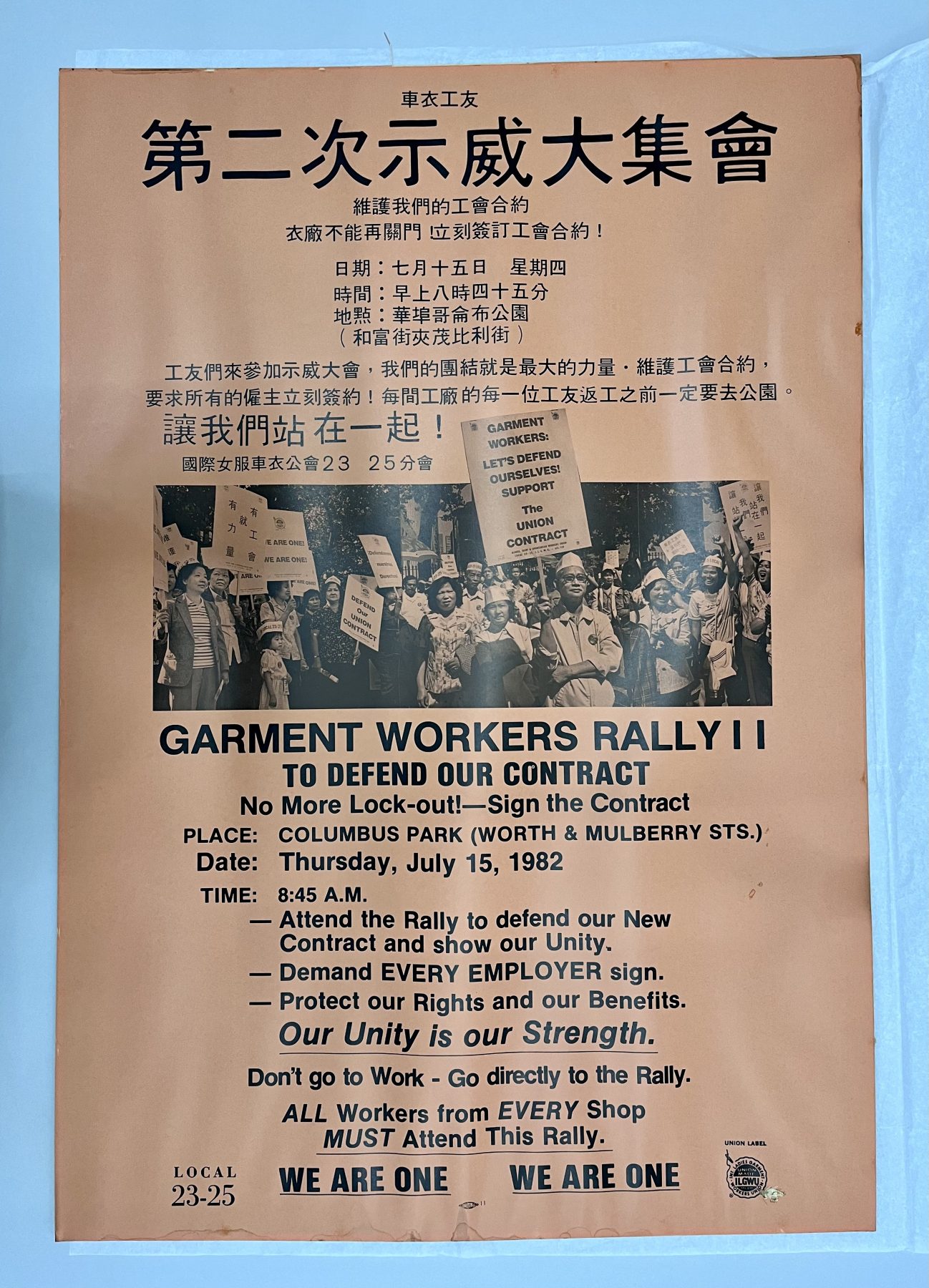 We've fully reached our funding goal!
Total Conservation Cost: $1,400
Thanks to a donation from Vivian Toy, we reached our total fundraising goal! We are so grateful for her generous sponsorship, and as a small way to show our appreciation, have included an acknowledgement of her sponsorship in the 1982 Garment Workers' Strike Poster's catalog record in MOCA Collections' PastPerfect database.
As its conservation treatment is now fully funded, please note that any further contributions will be put towards the poster's long-term storage and care. If you would like to make a contribution, please click to navigate to MOCA's Donate Page and be sure to indicate that you wish to support the care of the 1982 Garment Workers' Strike Poster. Please also kindly send a brief email to collections@mocanyc.org to notify us of your donation.
Object Story and Significance:
Forty years ago on June 24, 1982, as many as 20,000 garment workers and their supporters rallied at Columbus Park in one of the largest demonstrations of worker unity and collective strength in New York Chinatown history. At the time of the strike, Chinatown garment workers numbered 25,000-strong, 80 percent of whom were Chinese immigrant women. Proudly donning union hats and raising picket signs proclaiming "We are one!," they joined the strike to defend a newly negotiated union contract which would mandate that employers raise their pay by $1.15, provide them with one additional paid holiday, and increase employer contributions to workers' healthcare. Cowed by the immense pressure of such a massive collective action, one by one, they forced the majority of Chinatown garment subcontractors to reluctantly sign the new contract. To target the remaining holdouts, this large bilingual poster called on workers to turn out for a second rally on July 15th. The poster, measuring 20 by 29 inches, printed in a conspicuous orange, and posted where workers would have seen it, would have signaled support for the strike action by all whose walls and doors it hung on, even as it reminded and exhorted from workers a second near universal turnout. The message of this poster was bolstered by countless everyday conversations, phone banking, and leafleting by thousands of courageous and resolute women, who put hard work into organizing and mobilizing their friends and fellow workers. Due to their efforts in this second historic rally, workers finally secured victory: by its end, they got every Chinatown subcontracting firm still holding out to sign the new union contract, winning much needed pay increases and benefits for their families.
Post-Fire Condition:
Due to exposure to humidity and water, the poster's surface shows signs of warping and deformation and the poster's edges show evidence of tideline staining. Small accretions, including possibly a dead insect, has stuck to its surface.
With the support of your donation, we would:
Dry clean its surface as possible
Reduce some of the tideline stains at the top and bottom of the front as possible
Remove accretions
Humidify and flatten as possible