Collections
馆藏
Collections
馆藏
Collections
馆藏
Collections
馆藏
Collections
馆藏
Collections
馆藏
Collections
馆藏
Collections
馆藏
Collections
馆藏
Collections
馆藏
Collections
馆藏
Collections
馆藏
Collections
馆藏
Collections
馆藏
Collections
馆藏
Collections
馆藏
Collections
馆藏
Collections
馆藏
Collections
馆藏
Collections
馆藏
Collections
馆藏
Collections
馆藏
Collections
馆藏
Collections
馆藏
Collections
馆藏
Collections
馆藏
Collections
馆藏
Collections
馆藏
Collections
馆藏
Collections
馆藏
Collections
馆藏
Collections
馆藏
Collections
馆藏
Collections
馆藏
Collections
馆藏
Collections
馆藏
Collections
馆藏
Collections
馆藏
Collections
馆藏
Collections
馆藏
Collections
馆藏
Collections
馆藏
Collections
馆藏
Collections
馆藏
Collections
馆藏
Collections
馆藏
Collections
馆藏
Collections
馆藏
Collections
馆藏
Collections
馆藏
Collections
馆藏
Collections
馆藏
Collections
馆藏
Collections
馆藏
Collections
馆藏
Collections
馆藏
Collections
馆藏
Collections
馆藏
Collections
馆藏
Collections
馆藏
Collections
馆藏
Collections
馆藏
Collections
馆藏
Collections
馆藏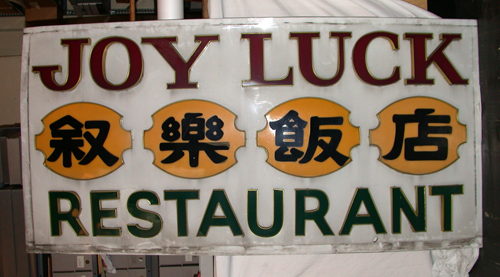 Please help us fund its conservation!
Total Conservation Cost: $4,000
Any amount helps and would be greatly appreciated!
If you would like to make a contribution towards the conservation of this restaurant sign, please click to navigate to MOCA's Sponsor an Object Donate Page and be sure to type in "Joy Luck" (for short) as the Object Name.
Object Story and Significance:
Old and historical business signs from family- or immigrant-owned restaurants, laundries, and other businesses that were once in Chinatown are nowadays expensive and hard to come by but they provide an invaluable way for MOCA to tell the stories of families, migration, and neighborhood change. Over the course of Chinese American history, new immigrants' work in restaurants, such as Joy Luck Restaurant (叙乐饭店) once located at 57 Mott Street, have supported families here and across the Pacific, creating openings and opportunities for migration even as their existence and persistence also evidence social and economic inequalities.
This restaurant sign, which would have been lighted from behind, was made using a technique popular in Chinatown. Individual pieces of colored acrylic were cut to form the letters of "Joy Luck Restaurant."  The letters were then framed in thin sheet metal with a golden plastic coating layer and affixed with wire to a white acrylic background. This method gave a raised, three dimensional appearance to the letters and made the sign more legible from a distance.
The sign has been marked for potential display in MOCA's upcoming permanent exhibition and is particularly important because it is one of the few signs stored at MOCA's 70 Mulberry location to survive the devastating fire.
The photographs below from MOCA's archive evidence the particularly long-running history of Joy Luck Restaurant. They show artist Dong Kingman painting watercolors on the sidewalk outside the restaurant in the 1940s, a streetscape of Mott Street with the sign hanging in the background taken by members of the Basement Workshop in the 1980s, and a reference photo of its humble green-painted storefront taken by MOCA staff in 1995.
(Click photographs to enlarge.)
Post-Fire Condition:
Several of the letters are loose or broken and there are losses to the white acrylic background along the right corners and vertical side. Some of the letter frames are coming loose and there are some losses to the gold coating on the metal letter frames, notably in the word RESTAURANT. The E in RESTAURANT has some denting damage. There is a 3/4 inch x 1/2 inch hole in the white background below the S where something hit the sign from the front. Because of its size and the flexibility of the background, without an outer frame, this piece is delicate and vulnerable to loss when handled. The current mounting system seems to be three pieces of metal wire with loops at the end. A more secure mount would benefit this piece.
With the support of your donation, we would:
Dry and wet clean surfaces to remove soot and dirt deposits
Reconstruct and fill losses
Tone areas of letter frames where silver metal is exposed rather than the gold coating
Create a mount to safely store and exhibit this object