"A journey of a thousand miles may not be achieved without accumulation of every single step, just as the enormous ocean may not be formed without gathering every small brook." — Xunzi, Exhortation to Learning
"不积跬步,无以至千里;不积小流,无以成江海。"——《荀子·劝学篇》
"不積跬步,無以至千里;不積小流,無以成江海。"——《荀子·勸學篇》
Have you never run a marathon before? Don't be afraid. There are still two and a half months until the race day. If you can jog at least 2–3 miles today, a 10-week marathon training plan can prepare you to cross the finish line at the NYC Marathon on Sunday, November 6! The key is to gradually increase your distance while improving your speed during your shorter mid-week runs.
As we only have a few remaining guaranteed entries, SIGN UP now if you're still interested in joining Team MOCA as an official charity runner. Once a simple application is received, we will share a runner agreement via DocuSign for consideration. After the signed agreement is complete, an individual entry will be assigned directly from New York Road Runners (NYRR). It is a straightforward process to run with MOCA! We will lead you through all marathon logistics, such as race registration via NYRR, guidance on setting up personal fundraisers, answering marathon-related questions, and supporting you all the way to the finish line on November 6. Join the MOCA Marathon Team to help secure and build a permanent home for the Chinese American narrative in New York City!
Designed by world-renowned architect Maya Lin in partnership with leading museum design firm Ralph Appelbaum Associates, the new national Museum of Chinese in America will be a home for all. The expanded MOCA will serve as a hub that integrates the past, present, and future aspirations of the Chinese American journey. Read Bloomberg's exclusive unveiling of the design here.
We are thrilled to announce Team MOCA at the 2022 TCS New York City Marathon! MOCA welcomes you to join us as an official charity runner on Sunday, November 6. It is our way of honoring the pioneering spirit of not only Chinese immigrants but all immigrants who sacrificed and dared to take the first step that blazed a path for future generations in America.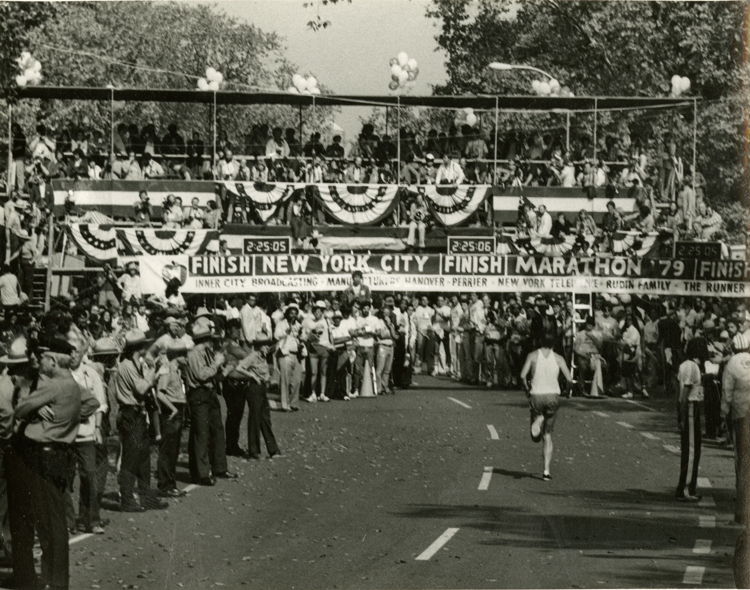 In the above photograph taken by Emile Bocian from the MOCA collections, Kenny Moore of Oregon crossed the finish line of the 1979 NYC Marathon; placing 51st out of 10,455 runners with an official time of 2:25:13.
Why Run with MOCA?
MOCA's stories help broaden the American narrative. MOCA showcases the best of American resilience in the face of impossible odds. We share the challenges and triumphs in the face of discrimination, hatred, and violence—elements we see too often today. Through it all, we acknowledge the complicated and layered journeys in our pasts—ones we have probably yet to fully process.
We are at a crucial junction not just for the Museum, but also for the Asian American community. MOCA acknowledges that the genesis of much of the discrimination toward AAPI communities started over 200 years ago in the period prior to the Chinese Exclusion Act of 1882—it is not just this moment.
Now is the time for MOCA to establish a permanent home. Now is the time to evolve into a Museum of Conscience. And now is the time to boldly stake our place in the American narrative. Together, we can rise to the challenge and safeguard the stories, legacies, and experiences of this vital part of American history.
Visibility matters. When you join Team MOCA, you'll be claiming a coveted guaranteed entry into the 2022 TCS New York City Marathon and participating in one of the world's largest marathons and one of the city's most iconic annual sporting events, attracting the sport's top professional athletes and runners of all ages and abilities from around the world. It will return at full capacity with 50,000 runners this year for the first time since 2019.
Spots on Team MOCA are limited and allocated on a first come, first reserve basis. More than 84,000 applications were received for the non-guaranteed entry drawing in March 2022, and an estimated 12 percent of them were accepted. To secure a guaranteed spot, SIGN UP now. We will follow up with detailed information regarding the 2022 MOCA Charity Runner Agreement. We will also share a step-by-step guide to help you set up your personal fundraising campaign and suggest tips about how to raise awareness during these unprecedented times. If you may have any questions, please do not hesitate to contact development@mocanyc.org.
We look forward to running with you to cross the finish line at the marathon on Sunday, November 6!