Upcoming
未来
Events
活动
Families
家庭活动
In-Person
Upcoming
未来
Events
活动
Families
家庭活动
In-Person
Upcoming
未来
Events
活动
Families
家庭活动
In-Person
Upcoming
未来
Events
活动
Families
家庭活动
In-Person
Upcoming
未来
Events
活动
Families
家庭活动
In-Person
Upcoming
未来
Events
活动
Families
家庭活动
In-Person
Upcoming
未来
Events
活动
Families
家庭活动
In-Person
Upcoming
未来
Events
活动
Families
家庭活动
In-Person
Upcoming
未来
Events
活动
Families
家庭活动
In-Person
Upcoming
未来
Events
活动
Families
家庭活动
In-Person
Upcoming
未来
Events
活动
Families
家庭活动
In-Person
Upcoming
未来
Events
活动
Families
家庭活动
In-Person
Upcoming
未来
Events
活动
Families
家庭活动
In-Person
Upcoming
未来
Events
活动
Families
家庭活动
In-Person
Upcoming
未来
Events
活动
Families
家庭活动
In-Person
Upcoming
未来
Events
活动
Families
家庭活动
In-Person
Upcoming
未来
Events
活动
Families
家庭活动
In-Person
Upcoming
未来
Events
活动
Families
家庭活动
In-Person
Upcoming
未来
Events
活动
Families
家庭活动
In-Person
Upcoming
未来
Events
活动
Families
家庭活动
In-Person
Upcoming
未来
Events
活动
Families
家庭活动
In-Person
Upcoming
未来
Events
活动
Families
家庭活动
In-Person
Upcoming
未来
Events
活动
Families
家庭活动
In-Person
Upcoming
未来
Events
活动
Families
家庭活动
In-Person
Upcoming
未来
Events
活动
Families
家庭活动
In-Person
Upcoming
未来
Events
活动
Families
家庭活动
In-Person
Upcoming
未来
Events
活动
Families
家庭活动
In-Person
Upcoming
未来
Events
活动
Families
家庭活动
In-Person
Upcoming
未来
Events
活动
Families
家庭活动
In-Person
Upcoming
未来
Events
活动
Families
家庭活动
In-Person
Upcoming
未来
Events
活动
Families
家庭活动
In-Person
Upcoming
未来
Events
活动
Families
家庭活动
In-Person
Upcoming
未来
Events
活动
Families
家庭活动
In-Person
Upcoming
未来
Events
活动
Families
家庭活动
In-Person
Upcoming
未来
Events
活动
Families
家庭活动
In-Person
Upcoming
未来
Events
活动
Families
家庭活动
In-Person
Upcoming
未来
Events
活动
Families
家庭活动
In-Person
Upcoming
未来
Events
活动
Families
家庭活动
In-Person
Upcoming
未来
Events
活动
Families
家庭活动
In-Person
Upcoming
未来
Events
活动
Families
家庭活动
In-Person
Upcoming
未来
Events
活动
Families
家庭活动
In-Person
Upcoming
未来
Events
活动
Families
家庭活动
In-Person
Upcoming
未来
Events
活动
Families
家庭活动
In-Person
Upcoming
未来
Events
活动
Families
家庭活动
In-Person
Upcoming
未来
Events
活动
Families
家庭活动
In-Person
Upcoming
未来
Events
活动
Families
家庭活动
In-Person
Upcoming
未来
Events
活动
Families
家庭活动
In-Person
Upcoming
未来
Events
活动
Families
家庭活动
In-Person
Upcoming
未来
Events
活动
Families
家庭活动
In-Person
Upcoming
未来
Events
活动
Families
家庭活动
In-Person
Upcoming
未来
Events
活动
Families
家庭活动
In-Person
Upcoming
未来
Events
活动
Families
家庭活动
In-Person
Upcoming
未来
Events
活动
Families
家庭活动
In-Person
Upcoming
未来
Events
活动
Families
家庭活动
In-Person
Upcoming
未来
Events
活动
Families
家庭活动
In-Person
Upcoming
未来
Events
活动
Families
家庭活动
In-Person
Upcoming
未来
Events
活动
Families
家庭活动
In-Person
Upcoming
未来
Events
活动
Families
家庭活动
In-Person
Upcoming
未来
Events
活动
Families
家庭活动
In-Person
Upcoming
未来
Events
活动
Families
家庭活动
In-Person
Upcoming
未来
Events
活动
Families
家庭活动
In-Person
Upcoming
未来
Events
活动
Families
家庭活动
In-Person
Upcoming
未来
Events
活动
Families
家庭活动
In-Person
Upcoming
未来
Events
活动
Families
家庭活动
In-Person
Save the Date: Mid-Autumn Family Festival
September 17, 2022, 3:00 pm

–

6:00 pm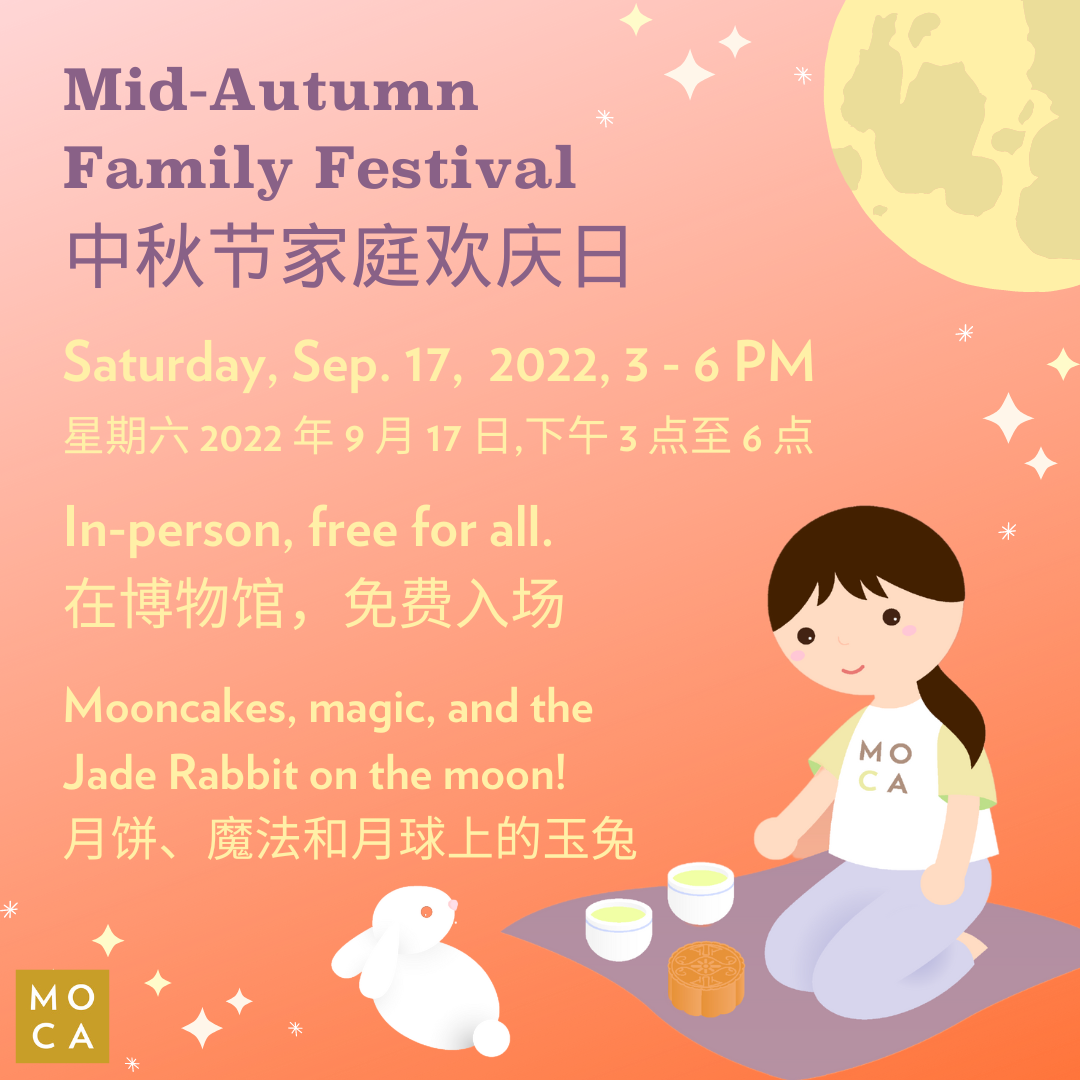 Mooncakes, magic, and the Jade Rabbit on the moon! Join us for an afternoon of storytelling, drop-in arts & crafts, mooncake making, and more on Saturday, September 17th from 3 – 6 PM.
Free admission. Click here to RSVP! 
Check back shortly for the full schedule of events.
Please note: your safety, and that of our team, continue to be our top priority, so at this time masks are required for all staff and all visitors age 2 and over. Click here for more information on MOCA's visitor guidelines and safety protocols. 
Can't attend in person? Join us virtually as we explore the customs and traditions behind this harvest festival with arts & crafts, MOCAKIDS Storytime at Home, and more family fun!
---
MOCA's Family Festival Series is supported in part by an award from the National Endowment for the Arts, with public funds from the New York City Department of Cultural Affairs in partnership with the City Council, and with public funds from the New York State Council on the Arts with the support of Governor Kathy Hochul and the New York State Legislature.
To find out more about how National Endowment for the Arts grants impact individuals and communities, visit www.arts.gov.